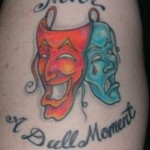 @inkedandtall
active 4 months, 3 weeks ago
Tommy Lee and James Boucher are now friends 4 months ago

here there …finallt made it back on here hope all is well and everyone had a Merry Christmas

Tommy Lee posted an update in the group Tommy Lee: 11 months, 2 weeks ago

Ayy Brotha,….Headz Up!..I Reallly Hope U read this,..and If U are,… U prob Are Juss Gunna Read me,..And Go…."Koo Another BADASS FAN"…..Well Honestly Tommy,….U are my fuckkin Idol,….Ive been drumming for 3 Muthaafuckkin Yearz,…"RED HOT"…Encouraged me to even do thatt Fuckkin killer double Bass @ the age of 14…..My Dream was alwayz,…and WILL ALWAYZ…[Read more]

Hope every one is doing well!

@tommy have a great weekend sexy

By Mikael Wood, Special to the Los Angeles Times February 3, 2012 Tommy Lee of Mötley Crüe says his favorite four-letter word — OK, his second-favorite four-letter word — is "risk." "We've always prided ourselves on being the first band to do things," the drummer adds, citing as an example his nightly solo on the hair-metal group's [...]

Hope that everyone has a AWESOME weekend!!!! TGIF

Hope all is well. Hope everyone had a Meery Christmas and all the best for 2012

Ter and Emma are now friends 1 year, 6 months ago

Ter and Steph are now friends 1 year, 6 months ago

Ter and Mandi are now friends 1 year, 6 months ago

Work work and more work!!




Tommy Lee—yep, that Tommy Lee—and his partner, DJ Aero DJ Aero: Tommy is fully into this. Think about it: Every drum solo in every Mötley Crüe record ever has electronic elements in them. There are loops, triggers and so on. So it's not that big a stretch. It's weird to me that people wouldn't think that [...]

LTNS,
Been staying outta trouble workin… Last I talked to yah I just got another kit to beat up on… And trust me bro, Ive been taking out a ALOT of anger on some drum heads….. lol … Like always playing some Crue tunes, and now seeking some other guys to play with. Beating on the drums alone playing along with the GD, CDPLAYER gets old as…[Read more]

@tommy Whats up Mr. Lee just stopping by to say have a great weekend!!!!