EVENT RELATED POSTS
---
Tommy Lee & DJ Aero – Hard Rock Hotel – Palm Springs, CA – November 22, 2013
Tommy Lee & DJ Aero – Lunar Massive Event – November 15, 2013 Atlanta GA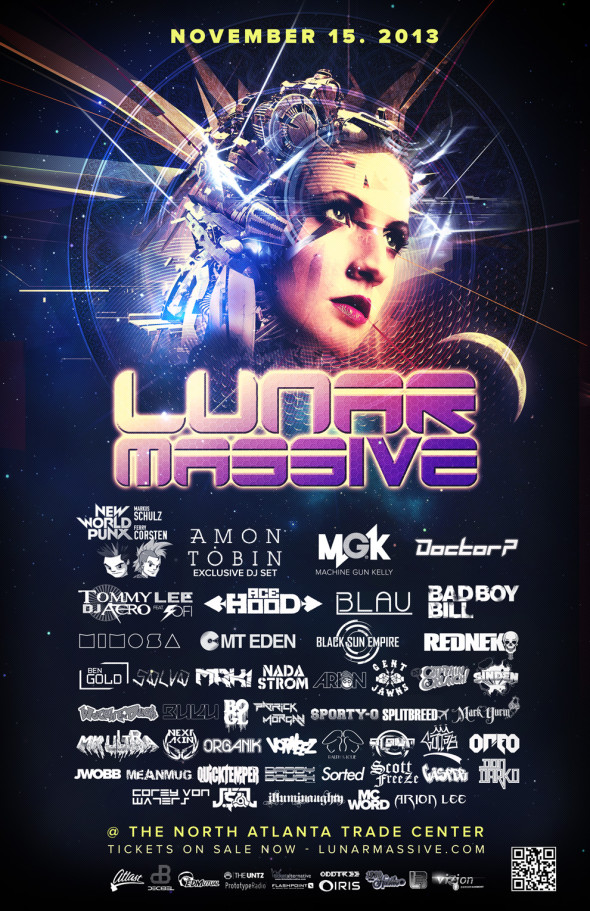 JUST ANNOUNCED: Tommy Lee & DJ Aero will be performing in #Atlanta GA on November 15th at the Lunar Massive Event along with over 40 other international artists. This is not a performance that you are going to want to miss! "LIKE" the Facebook page below for information on ticket sales, event updates and the chance to win FREE TICKETS!! Hope to see you at the event!!!
http://facebook.com/lunarmassive
Tommy Lee & DJ Aero @ Center of Gravity Festival in Kelowna, Canada Aug. 2-3
| | | |
| --- | --- | --- |
| August 2, 2013 11:00 pm | to | August 3, 2013 11:00 pm |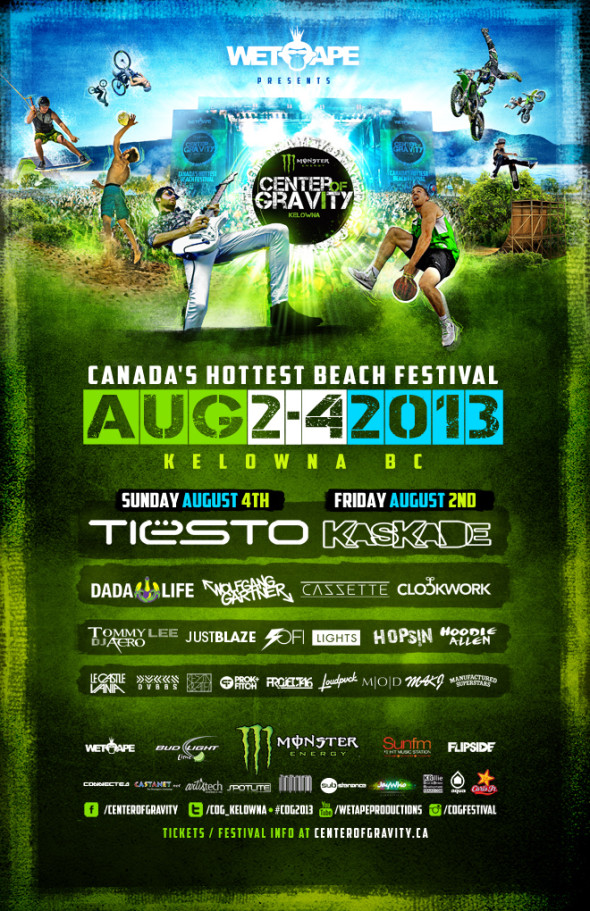 http://centerofgravity.ca – Center of Gravity features 3 stages, 7 sports, exhibitor villages, food vendors, sponsor exhibits, and much more. Make sure you have all the info before you show up!
Full Lineup – http://centerofgravity.ca/lineup1/2013-artists/
Tommy Lee & DJ Aero – Thursday March 7, 2013 at Trak Lounge Bar in Toorak, VIC Australia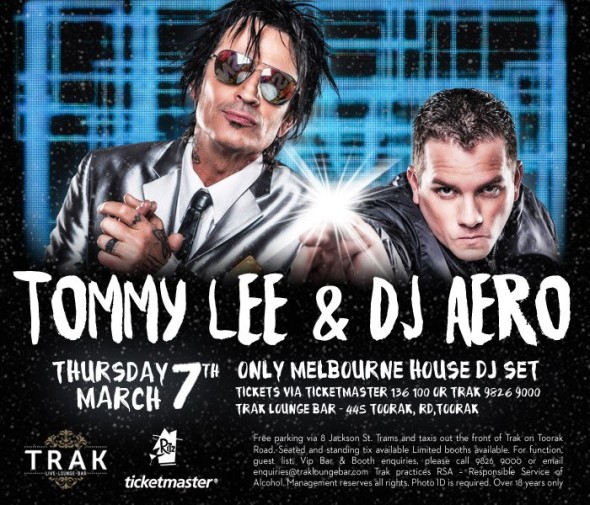 Venue site: http://www.trakloungebar.com
Tommy Lee & DJ Aero – Saturday, January 19, 2013 @ Beta Nightclub, Denver Colorado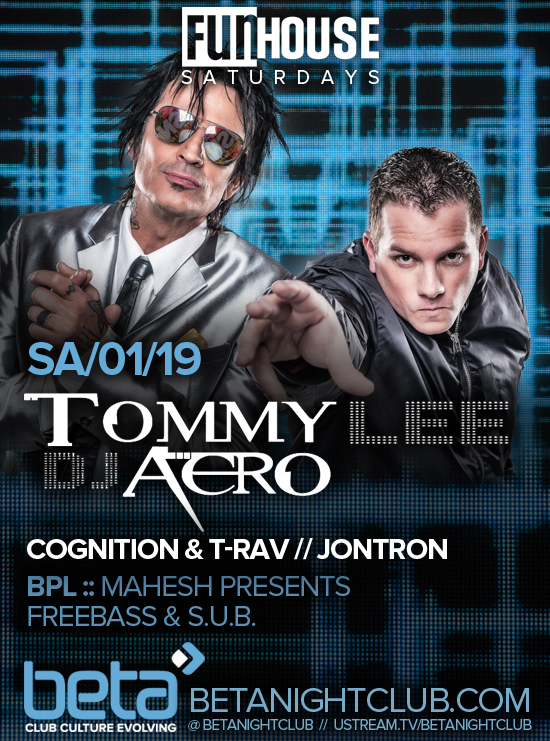 Tommy Lee is one of the greatest drummers in rock and roll history because he's always been about more than just rock and roll. He's about transcending expectations and shattering preconceived notions. He's about finding the filthiest, nastiest beat imaginable, and transforming it into the sexiest mother-fucking sounds to ever move our hearts and drive our souls. He's not about definition, he's about exploration – size matters, but innovation is his mother of reinvention.
DJ AERO (birth name: CHESTER DEITZ) is a hip-hop turntablist at heart, although he is today best known as TOMMY LEE's DJing partner and associated with a deliciously dirty, electro-house sound
More info: http://www.betanightclub.com/event_details.php?id=864
2011 Awards
DJ Mag #1 Club in North America, #15 in the World
Westword Best of Denver, Best Dance Club
Tickets: http://fla.vor.us/1152134-Tommy-Lee-and-DJ-Aero-tickets/Tommy-Lee-and-DJ-Aero-Denver-Beta-.html
Location: Beta Nightclub, 1909 Blake St, Denver, Colorado 80202
Tommy Lee & DJ Aero – January 18, 2013 @ Sound Kitchen, Wild Knight, Scottsdale, Arizona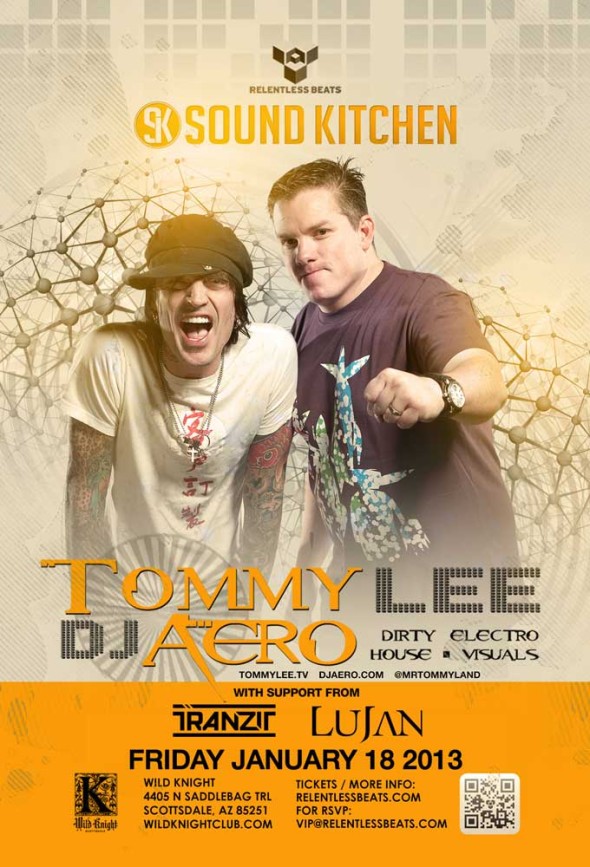 Wild Knight and Relentless Beats present Sound Kitchen featuring Tommy Lee & DJ Aero on Friday, January 18, 2013.
To party with TOMMY LEE is to have so much $%&*@ fun, it hurts. As DJs and producers, TOMMY LEE & DJ AERO's sound is dirty, filthy, nasty electro-house; and since their musical tastes are not constrained to one genre, the duo often veers into techno, progressive, breakbeat and even hip-hop territory. It is one thing to play the same set list of rock songs to stadiums filled with adoring, expectant fans; it's entirely another to walk into a swarming nightclub crammed with judgmental trainspotters, read the crowd correctly, and make people dance. Ask any professional DJ and he will tell you that the art of reading a room is anything but easy to master.
Tickets & More Info: http://wildknightclub.com/2013/01/sound-kitchen-ft-tommy-lee-dj-aero/
Click here to RSVP on Facebook
Location: Wild Knight, 4405 N. Saddlebag Trail Scottsdale, AZ 85251
Tommy Lee & DJ Aero: Holiday Groove 2012 – Hollywood, CA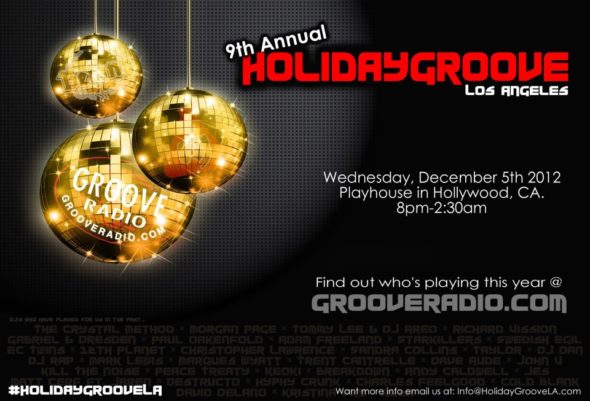 America's most acclaimed electronic dance internet radio station Groove Radio – will hold their 9th Annual DJ celebration "HOLIDAY GROOVE 2012" in association with ChemistryLA, Belong Clothing and Nytehype Entertainment.
This event will be benefiting The "Spark of Love" Toy Drive
Please bring an unwrapped Toy valued at $15 ore more or make a cash donation for admission.
Over 40 Celebrity DJs performing & Suprise Guests in 1 night ::Dj's who played Holiday Groove in the past:
The Crystal Method * Morgan Page * Paul Oakenfold
Tommy Lee & DJ Areo * Gabriel & Dresden * Dave Aude
12th Planet * Swedish Egil * Adam Freeland * EC Twins
StarKillers * Richard Vission * Static Revenger * Mr White
Christopher Lawrence * Sandra Collins * Taylor * DJ Dan
Kill the Noise * Peace Treaty * Destructo * DJ Reza
Marques Wyatt * Mark Lewis * Jes * DJ Rap * John V.
Andy Caldwell * Matt Cerf ft. Jaren * Mark Lewis * Keoki
Trent Cantrelle * Breakdown * Hyphy Crunk * Charles Feelgood
Cold Blank * David Delano * Kristina Sky * Jon Pegnato
Sam Hiller * Paul Ahi * Dirty Freqs * Suzie Del Vecchio * Simply Jeff
Fei Fei * Jason Blakemore * LAZRtag * Rocke and soooo many more…!!
★★ Find out who's playing this year on 11.26.12 ★★
_______________________________________________
BOTTLES & VIP SERVICE
Call: 323.656.4600 or email:
Concierge@PlayhouseNightClub.com
Doors open extra early at 8:00pm sharp to fit all the dj's.
Party goes till last djs recorded set of 3:00am.
2 rooms of music.
Early arrival is strongly suggested.
Conveniently located on the corner of Wilcox and Hollywood Blvd.
Attention Groove Massive! We are seeking audience members to attend the exclusive live taping of Holiday Groove 2012 – A Massive Year-End DJ Celebration. Click here for more info
video from last years event:

TOMMY LEE & DJ AERO NOVEMBER 9 @ VOYEUR SAN DIEGO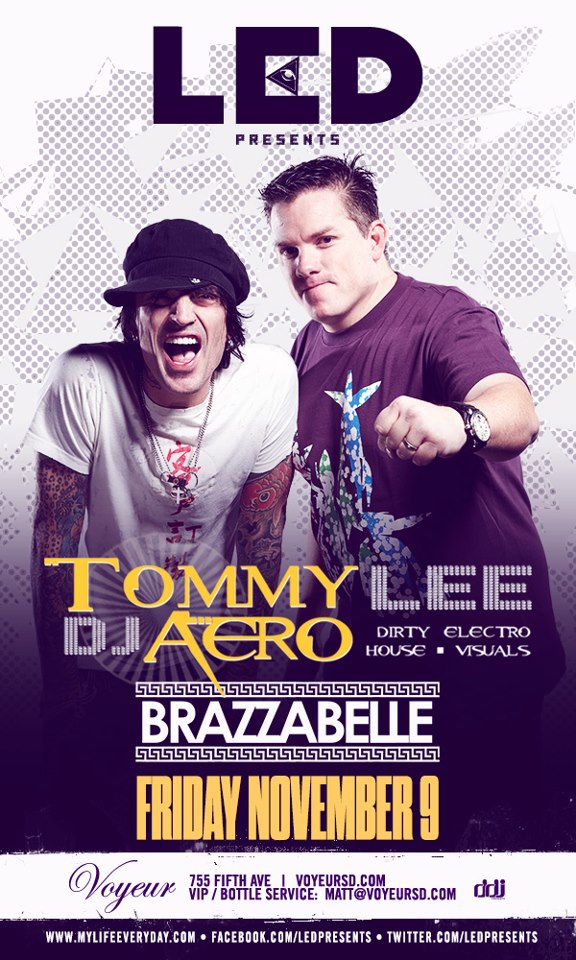 Tommy Lee & DJ Aero at Voyeur – Friday 11/9 :: presented by LED
For guest list consideration before 10:30pm, RSVP by hitting the "Join" button in the top right of this event page http://www.facebook.com/events/167136936760812/.
Tommy Lee & DJ Aero @ Yost Theater
http://www.facebook.com/houseofdreamz - 04/27/12 – Midnight Masquerade w/ Tommy Lee & DJ Aero. House Of Dreamz is every Friday night inside the Yost Theater in the historic downtown artist district of Santa Ana, CA. Video by Moezart.net
Motley Crue in Sin City 02/03/12 – 02/19/12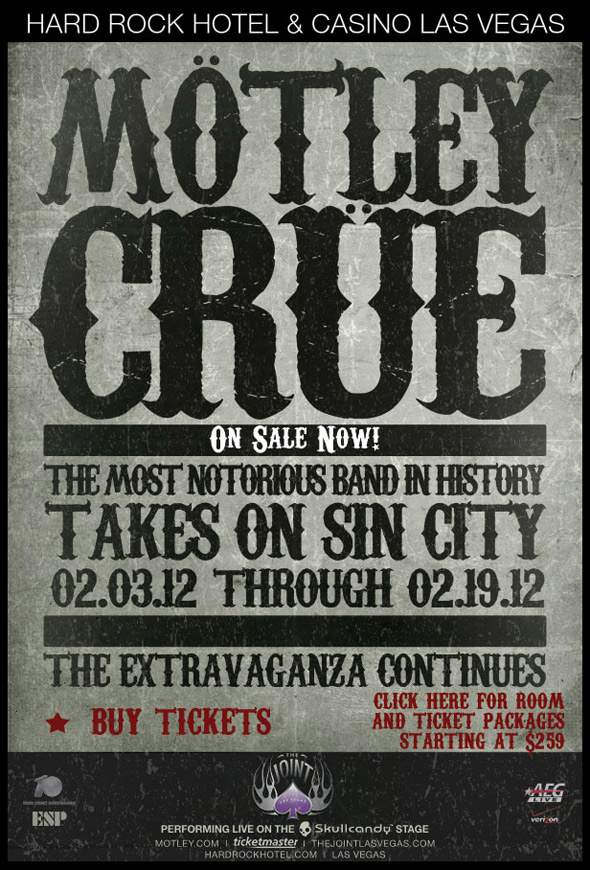 Mötley Crüe will become the first hard rock band to do a Las Vegas residency when they take over the Hard Rock Hotel and Casino in February. Dubbed "Mötley Crüe in Sin City," the residency will include 12 shows between February 3rd and February 19th.
In a conference call to announce the shows, frontman Vince Neil promised "over-the-top craziness. This is Las Vegas. Vegas is based on big, big shows," Neil said. "This show we are putting together right now is something that we have never done in our lives. This is an interactive show we're putting on – it's going to encompass the whole venue, not just the stage that we're standing on – a 40- by 60-foot stage. This is going to take over the whole place."
Drummer Tommy Lee said on the call that they've imagined doing a show like this for years. "We've gone through a lot of the big Vegas production shows and we all have talked about it many times going, 'God, could you imagine if we could only get our hands on this kind of an opportunity what we could do with it.'"
Read more: http://www.rollingstone.com/music/news/motley-crue-to-perform-12-las-vegas-shows-in-february-20111202#ixzz1jmPq9gJl
Deadmau5 with Tommy Lee & DJ Aero @ Sundance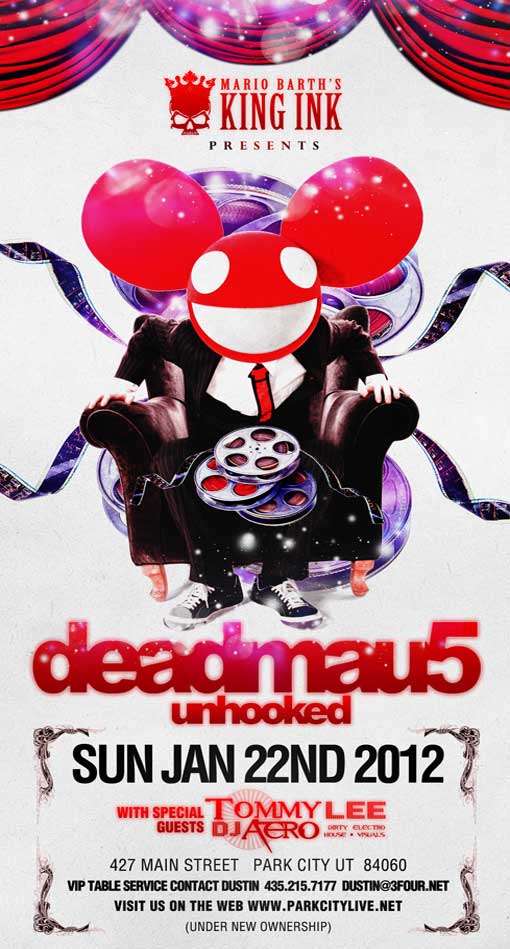 The first and second release of Deadmau5 tickets each sold out in 5 minutes – A NEW RECORD!!! THANKS TO THOSE WHO PURCHASED THEIR TICKETS!
Due to the incredible demand Deadmau5 has released his own private batch of tickets to his fans for the upcoming event on 1.22.12 @ Park City Live. These limited tickets will be available online to fans Monday 1.16.12 @ Noon MST
THIS IS THE FINAL BATCH. Don't miss seeing Deadmau5 at this intimate venue!
—-
SUNDANCE FILM FESTIVAL 2012!
KING INK Presents DEADMAU5 Unhooked w/ special guests TOMMY LEE & DJ AERO!
Known worldwide as an extraordinary producer, DJ and for wearing the signature mouse head. No need to give "Deadmau5″ anmore of an introduction. We all know its an event not to miss!
- EVENT LOCATION: 427 Main Street "Formerly Known As HarryO's"
- ADDRESS: 427 Main Street Park City, UT 84060
- CONTACT: www.parkcitylive.net
VIP TABLE SERVICE CONTACT DUSTIN ESSON
- PHONE: 435-215-7177
- EMAIL: dustin@3four.net
This is a 21+ event. Early arrival to the venue is encouraged.
HOLY SHIP! Official Teaser w/ Tommy Lee & Destructo
www.holyship.com 3-Day Cruise aboard the MSC Poesia, a 93,000-ton luxury cruise liner. Jan 6 – 9, 2012. Ft Lauderdale / Bahamas / Private Island.